Join the community
Search for friends and make new connections with the Online Community.
Brought to you by the Missouri State Alumni Association
Alumni events
Spotlight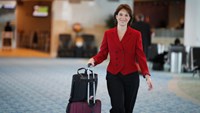 VP of health care consulting firm is proud of her nursing roots
Christina Dempsey
Vice President - Press Ganey Associates
"I've never, ever been sorry I chose nursing for my career, I am fulfilled every day. There are an infinite number of wonderful things we can do as nurses professionally that enrich the lives of our patients, our community, each other and ourselves. MSU and a lot of hard work has made that possible for me."
See full spotlight